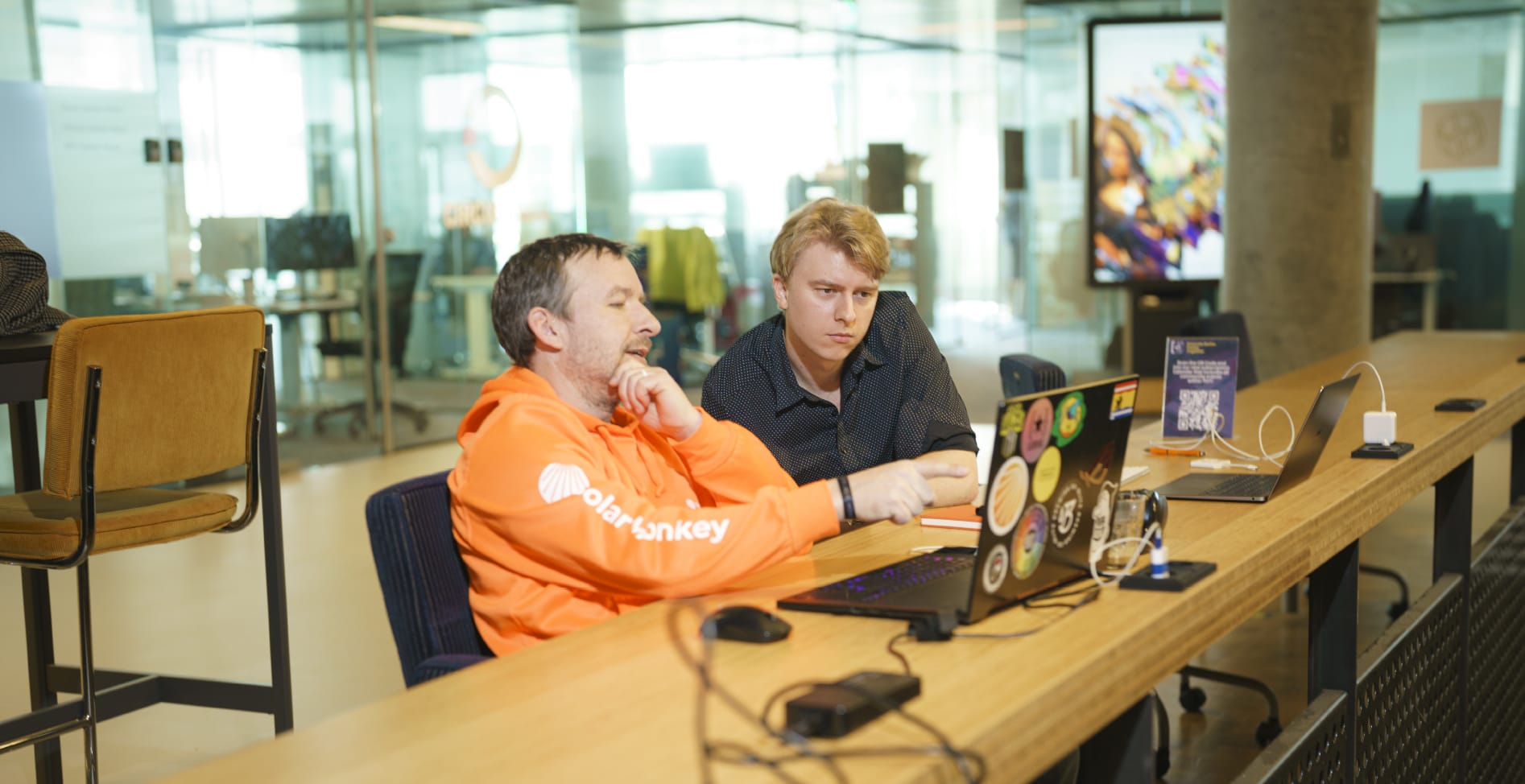 Junior Product Manager - NL
The Hague

,

Zuid-Holland

,

Netherlands

€3,300 - €4,000 per month

Engineering
Job description
Would you love to help Solar Monkey in the acceleration of the energy transition to renewable energies?

Are you interested in a sophisticated and complex SaaS product?

Is it important for you to grow in your job and get a lot of coaching and opportunities to do so?

And is your dream job at a fun, international scale-up company?
This job might be it!
Solar Monkey is looking for a Junior Product Manager with at least one year of experience who knows their way around a technical context. You'll start with very intensive training to get you up to speed in our niche of solar system engineering. After that, you will start your job as a Junior Product Manager.
At Solar Monkey this means making sure that the solutions we deliver are valuable to our customers, feasible to build, and viable for our business.

About Solar Monkey
At Solar Monkey we are making an impact by accelerating the transition to solar energy. We do this by delivering on our product vision aimed toward solar installers: Sell more PV in less time with easy-to-use software and seamless integrations.

Solar Monkey started off in the Netherlands and is now available in 6 European countries. Our current objective is to grow further outside the Netherlands so we can make even more impact.
For more information on how our SAAS product works, see our corporate website (https://solarmonkey.io/).
For more information on Solar Monkey as an employer and our culture, see our jobs site (https://jobs.solarmonkey.nl/).
About our product teams
The product teams at Solar Monkey are organised around subdomains. Each team is empowered to "own" their area of our app. This means that:
The team is knowledgeable about their domain (for example PV design, PV business cases, monitoring)

The team is multidisciplinary (including frontend, backend, testing, and product management)

The team is outcome driven: it is aimed at achieving results, not just pushing out features.

The team works agile: we work iteratively with a strong focus on learning.
You will be the Junior Product Manager of one of those teams.
We are looking for someone that is eager to improve. This means an open attitude towards feedback and changing the workings of yourself and your team. Being a fast-growing scale-up, our company is not perfect and we expect someone to be pragmatic and flexible. You will of course have to deal with several stakeholders inside the company, like sales, operations, and finance.
Your job will be to:
Solve the assigned problems, in ways that our customers love, yet that work for our business!

Do user research (analyze analytics and perform user interviews).

Produce product specifications written in posts, and pitches and manage a high backlog.

Make sure your team focuses on delivering value (outcomes, not output).

Promote an agile mindset within the team.

Evangelise your product area; align with internal stakeholders; gather relevant feedback and discuss opportunities.
Also, your role might include:
Making some rough UI sketches, (We have a UX designer but servicing multiple teams)

Quality assurance of the work that is delivered by the team. (We have a QA college for multiple teams atm.)

Release management for your team (this is not a dedicated role (yet)).
Job requirements
At Solar Monkey, we embrace diversity and foster an inclusive environment where team members of various backgrounds, ages, genders, and orientations are equally valued. Our dedication lies in developing a fair hiring process that ensures equal opportunities for all.


And what would be in it for you?
A competitive salary of €3300 - €4000 gross depending on experience

On top of the salary: a profit share (SARs) allows you to benefit from Solar Monkey's growth

Intensive, regular coaching by a manager who is experienced in the PM job.

A MacBook

A training budget of 4% of your annual salary

A challenging journey within an ambitious scale-up. Tons of responsibilities and a good bunch of people to celebrate successes with.

A hybrid-friendly culture. The flexibility to work where and when it fits you best and a budget to set up your workspace at home

Monthly social events and quarterly strategy days              


What will the application process look like?

Applying
Please apply here with a cover letter that describes:

Who you are.

Why you? What will you bring to Solar Monkey?

Why this job post and not another?

What relevant (for us) work you have done? Preferably something you are excited about.
Please limit to 500 words.  

Resume Screening Once selected, we will ask you to play a couple of short neuroscientific games. As we value personal growth and transparency, we will make sure you receive your results on the games as well.
Phone screen  We will call you for a short (20m) phone call. 
1-hour interview We will discuss your background and experience and leave some room for questions from your side.
Take-home assignment We ask you to spend a maximum of 1 hour on an assignment that enables you to show how you approach product management and engage with stakeholders.
1-hour interview You will present your take on the exercise. We will also reflect on the results and the application process so far.
Agreement Finally, both you and us will have a good understanding of how well you match this job at Solar Monkey. We will discuss the final contract terms and agree on an offer. We will try to move fast in this last stage so you (and potentially other candidates) will not be uncertain about the process for too long.

The Hague
,
Zuid-Holland
,
Netherlands
€3,300 - €4,000 per month
or
Apply with Linkedin
unavailable
Apply with Indeed
unavailable